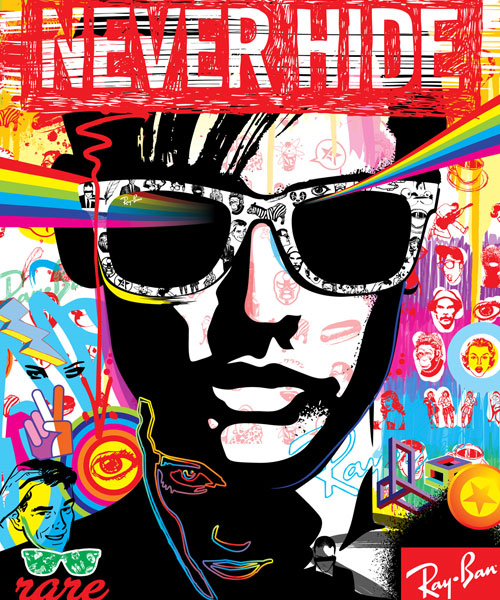 Every once in a while we love to pay homage to our favorite classic eyewear styles. Today, we are as in love with Ray Ban sunglasses as we were back in the Eighties when Tom Cruise donned a pair on  the big screen. Lots of customers come to Vizio Optic each season to see the newest styles from the most recognized sunglasses brand in the world. One of the most popular frames internationally, and especially at our store, is the Ray Ban Wayfarer.
This design came about in 1952 by Raymond Stegeman, with contours combining the mid-century and the classic eyewear designs. It was complemented by an attractive trapezoidal frame that has a casual, masculine appeal and flatters just about every face shape. The Wayfarer is not only an icon in the brand's evolution, marking the company's first turn from metal to plastic eyewear, but in the eyewear industry as a whole.
In 1982, when Ray Bans were worn by Tom Cruise in "Risky Business," the Wayfarers became a phenomenon and were an instant classic. In 1986, Ray Ban 1.5 million Wayfarer sunglasses after it appeared in "Miami Vice", "The Breakfast Club," and "Moonlighting." The popularity soared even more when Madonna, Michael Jackson, Debbie Harry, Elvis Costello, Anna Wintour, and Jack Nicholson began wearing them. From the two models of Wayfarers in 1981, Ray Ban designed more than 40 models throughout the remainder of the decade. Today, there are countless versions of this frame.
In 2001 Ray Ban Wayfarers took on a remarkable revamp. Acetate frames were replaced with lighter injected plastics and the shape was made smaller and become a bit rounded. Ray Ban Wayfarers were still in fashion. In 2008, Wayfarers were made available with more models, colors, and later,  several new patterns. Ray Ban has inspired a multitude of manufacturers to create Wayfarer-style frames, emphasizing its lasting impression on the business of fashion.