As you've previously seen, Oakley makes some pretty cool designer sunglasses. But did you know they also have a successful line of prescription eyewear? Yes, Oakley eyeglasses are the perfect complement to your sporty shades, with an athletic appeal that is perfect for both casual and professional atmospheres. In this year's collection, we love the Rhinochaser, the Tumbleweed, and the Cloverleaf.
Oakley Rhinochaser eyeglasses are chic and sophisticated, with a semi-rimless frame made of C-5 Alloy that allows for a super light and durable design. The thin Mono Shock hinges are an innovative technology that increases flexibility, which is important when protecting against impact and any other accidental harsh damage. The Rhinochaser has a rectangular silhouette and slim arm pieces, accented with an Oakley eyewear logo on each side and Unobtainium ear pieces, a material that increases grip through sweat.
Oakley Tumbleweed glasses have a sportier appeal, with their Unobtainium logo and ear socks that are actually reversible. You can rotate them to expose a new color to match your outfit or your mood, whatever you're feeling! The full-rim rectangular frames also feature adjustable nose pods for a comfortable fit.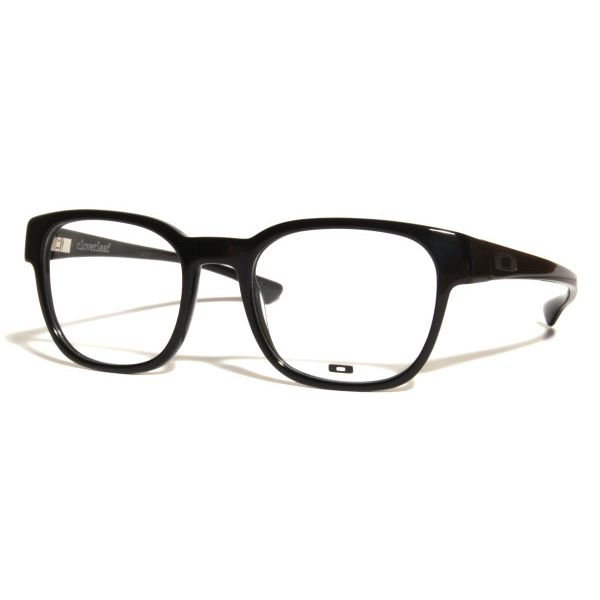 Oakley Cloverleaf eyeglasses are a different look from the usual Oakley glasses that you see. On the artsier side of things, this polished black frame comes in a thick plastic, with rounded rectangular lenses and sloping arm pieces that are embellished with the company logo on each temple.
Give us a call at 866-411-9428 and a member of the Vizio Optic team will be happy to assist you with your purchase of Oakley eyeglasses.
Photos: oakley.com, kontaktlinsenstudio.de